Summer—where the days are longer, the sun is stronger, and solar panels can perform at peak capacity! We love this season at Terra View Homes. Committed to making a significant movement towards the use of solar energy, we strongly believe that choosing to harness the power of the sun and the environment is the ultimate sustainable action.
Not only will solar panels save you money and position you as a community leader to encourage the health and longevity of our natural world, but will help you contribute towards a cleaner and brighter future. Have you ever wondered about the many benefits of #solarenergy?
Real Savings in Real Time
As green builders, it is our responsibility to lead by example and practice environmentally conscious building. By incorporating our sustainable and eco-friendly practices into every home built, we are helping to lessen our homeowners' impact on the environment while greatly diminishing their carbon footprint.
By providing our homeowners with to option to go solar the will have access to a clean, inexpensive, and renewable power source, increasing their property value, reducing their carbon footprint and giving their home a great energy-efficiency upgrade.
But the benefits don't stop there!
We encouraging our homeowners to take the first step towards complete energy independence, making sure their home is wired and ready when they want to increase solar generation and classify their home as full net-zero! Keep reading to learn how our system works.
How A Solar Module System Works to Brighten Your Everyday Life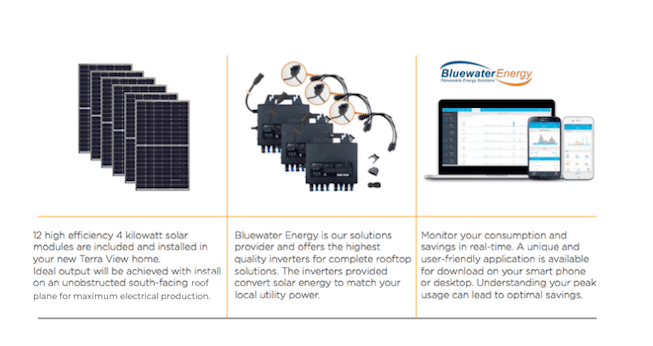 The 4kW Solar Module System Explained
Solar power is usable energy generated from the sun in the form of electric energy. Although solar energy is captured in a variety of ways, the most common form is photovoltaic solar panels that convert the sun's rays into usable electricity in your home.
Your 4KW solar array will be connected to a grid-tied system that takes the extra energy generated after your household consumption and feeds it directly to the local grid. This type of system allows homeowners to use their own solar energy first, and will generate up to 4kW of peak power and 5,000 kWh per year.

While homeowners with solar panels are able to generate a generous portion of their annual energy requirements from their rooftop system, did you know that the average Canadian usage ranges between 5000 kWh and 13,000 kWh per year? An energy-efficient household can help you virtually eliminate all or the majority of hydro costs.
The benefits behind a solar module systems for your household:
Reduce or eliminate hydro bills
Reduce impacts of utility inflation
Step towards energy independence
Increased property value
Environmental protection
TIP: Even if you don't produce 100 percent of the energy you consume, solar energy will reduce your utility bills which will in turn save you tens of thousands over your life in your new Terra View home. You could be earning $60,000 in energy savings!
We want to give our homeowners control and awareness over their energy usage, and in today's world of increased hydro usage and over consumption throughout the home, solar power is one of the most inexpensive, reliable, and cleanest ways to fuel our future! Will you be taking the step towards a full #netzero home? Contact us to learn more about our Going Solar today!