This month, we're sharing stories contributed by our Terra View Homes community in effort to highlight some of the amazing families that live here. We're so thankful the Martin family has offered to shed light on their experience so far as Terra View homeowners.
1. Which Terra View Homes community/development do you live in, and when did you move into your home?
We actually don't live in a Terra View-only community. We purchased an infill lot in Guelph in December 2018. Leading up to closing, we met with a few home builders in Guelph to discuss our vision for the property and get ideas. We ultimately chose Terra View because of their experience and the comfort they provided.
2. What drew you to a Terra View Home?
When we met with David Brix and Chris Woodhall at the beginning of the process, it was very clear that they understood what we were looking for. When describing the layout we were hoping for, they immediately were on the same page and provided us with a few different options. They also provided suggestions on how to make the home as functional as possible. We have now spent over a year in the home and there is nothing we would change.
Secondly, we have never built a home before and we knew that getting the project going with items such as permitting, service connections, etc. was something that was complex. They took this over and made the entire building experience enjoyable.
3. What is the biggest difference from your previous home?
Layout. We loved the neighbourhood we lived in and the lot we purchased kept us in that neighbourhood; it all came down to design of the home. When we started the project, we were a family of 3 looking for a home that would grow with us. It was also important to have a space that allowed us flexibility for entertaining in an open setting, but would also allow everyone to have their own space once our children are older.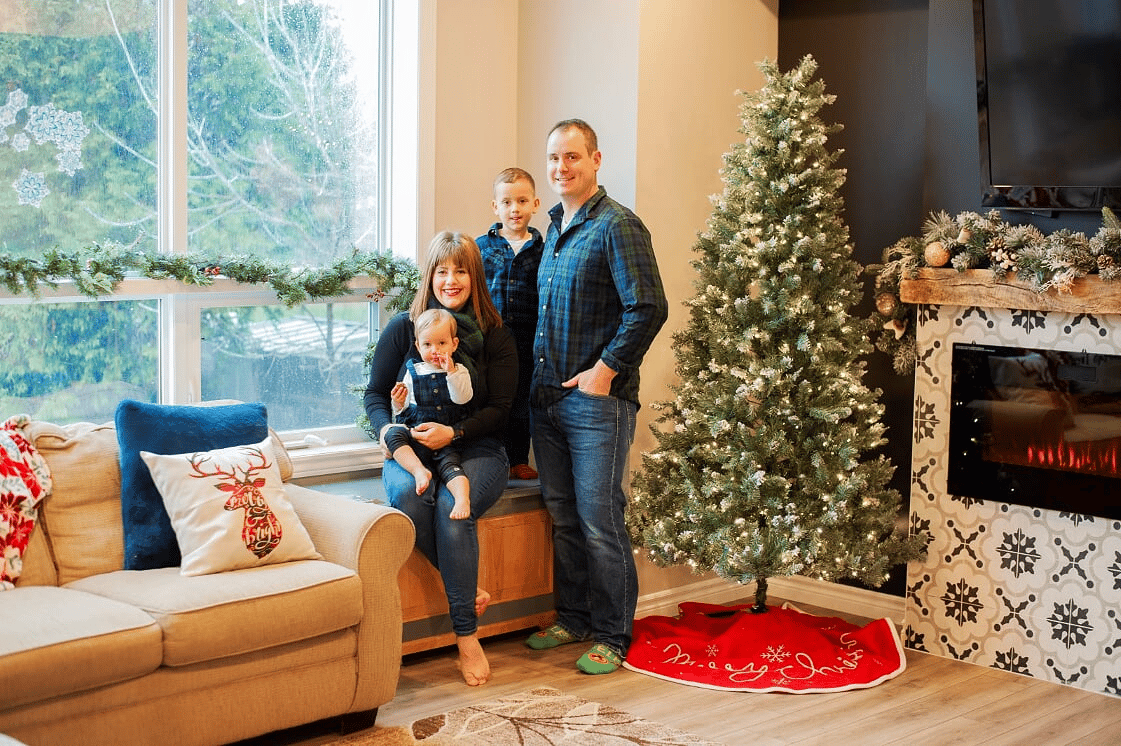 4. What is your favourite part about your home?
Amanda Martin: I have two. The first would be our principal bedroom. Zac works shifts and the layout of the bedroom allows him to turn on the lights to our en-suite, walk-in closet and entry hallway without any light being seen from the bed. My second choice would be kitchen. The design is very functional, there is lots of space/storage and it also allows me to work in the kitchen while keeping an eye on the kids.
Zac Martin: My favourite part of our house is the kitchen, dining room and living room areas. It is exactly the layout we wanted and has proven to be perfect for the type of entertaining that we wanted it for. It's great to have everyone in the same area and part of the same conversation while still being able to access the fridge or stove. I also love the garage. It gives me added space for storage and to work on little hobby projects.
5. What would you tell someone interested in purchasing a Terra View Custom Home?
Utilize the expertise of Terra View's team. When working through the details of the home, everyone from David and Chris to Charlene and Shelley were amazing to work with. They provided suggestions, kept us on budget, and allowed us to build a home we absolutely love. 
Interested in following in the Martin family's footsteps and joining our community? Start the process by taking virtual tours of our homes today!