Our story began in 1991 with a simple mission: to build communities that will stand the test of time — with an emphasis on architecture, quality craftsmanship and energy efficiency. Since then, Terra View Homes has successfully built communities with integrity while pioneering green home building and sustainability practices. We've accomplished a lot over the years, and as we continue to give back to our broader community and celebrate new ventures, milestones and innovations, we're always looking ahead to what's possible.
Read on to learn more about our journey over the past 30 years.
1991
Terra View Homes is born, one day after Earth Day! Founded by Andrew Lambden, Terra View builds its first home and establishes its steadfast commitment to the earth that the builder still embodies today.
1993
Terra View breaks ground on its first community — a 65-unit project in Fergus that sold out in 18 months.
1996
We announced our first community in Guelph — The Westerly Collection included single detached homes in the west end of the city.
1998
Terra View takes a holistic approach to home building and expands into land development, starting at Arkell Springs in Guelph. We didn't want to just build structures, we wanted to influence the land plan. Doing things right ecologically to preserve the land we build on while also designing for community wellbeing has always been important to us. In partnership with Kiwi Newton Construction, Terra View Homes was entrusted with converting the Seagrams Distilleries in Waterloo, ON into 105 luxury loft condominiums. The $25+ million dollar redevelopment is now an award winning condominium, awarded The Urbanization Award by the City of Waterloo and Project of the Year Award by the Waterloo Region Homebuilders' Association.
2000
Terra View had completed 23 housing projects as of August, 2000. Major projects preparing for occupancy included the Village of Somerset Glen in Guelph, ON, Seagram Lofts in Waterloo, ON, Columbia Forest in Waterloo, ON, Riverview in Cambridge, ON, Carrington Place in Guelph, ON and Trails End in Guelph, ON.
Early 2000s
More communities are added to Terra View's portfolio, including: Clair Valley in Waterloo, ON, River Ridge in Kitchener, ON, Charleswood in Cambridge, ON, LeMarche/The Market Lofts and the Kitchener Market in Kitchener, ON, Hillcrest in Guelph, ON, Ridgeway in Guelph, ON,  and Arkell Springs in Guelph, ON.
2002
Introducing Old Quebec Street! Another step in the rejuvenation of the heart of the city, benefiting downtown Guelph and the entire community — the redevelopment of the former Guelph Eaton' Centre brought Old Quebec Street — a multi-faceted facility to Downtown Guelph. Terra View was proud to collaborate on this project with Kiwi Newton Construction and the Lammer Group.
2006
Terra View was one of the first area home builders to build exclusively ENERGY STAR® homes. We've never built a home that hasn't been at least ENERGY STAR® accredited since.
2008
Terra View Homes was a founding member of Guelph's Clean and Green community clean-up program. The annual spring clean up is now made possible by over 1,200 volunteers and numerous sponsors every year, making parks and neighbourhoods more beautiful while protecting our rivers, streams, drinking water and local wildlife in our hometown.
2009
We built one of Canada's first ever Rotary Green Dream Homes to LEED™ Certification standards, exposing thousands of visitors to a higher building standard.
2010
Guelph's Rotary Dream Home was constructed by Terra View Homes.
2012
In 2012, our LEED™ model home at Edgewater Estates in Kitchener showcased the extent of our dedication to environmentally conscious building, incorporating the key elements of ENERGY STAR® , GreenHouse™, BuiltGreen™ and LEED™, from the foundation — to roof mounted solar panels. Terra View Homes, in partnership with the Nicholas Lambden Memorial Children's Foundation and through local corporate and private donations, donated $400,000 to the City of Guelph as a lead sponsor in helping to build the outdoor skating rink and water feature in Guelph's Market Square. 
2014
Our steadfast commitment to be gentle to the Earth, give back to our community and enhance Guelph's public spaces continues — Terra View donates trees and shrubs towards a landscaping project at the Guelph Youth Music Centre.
2016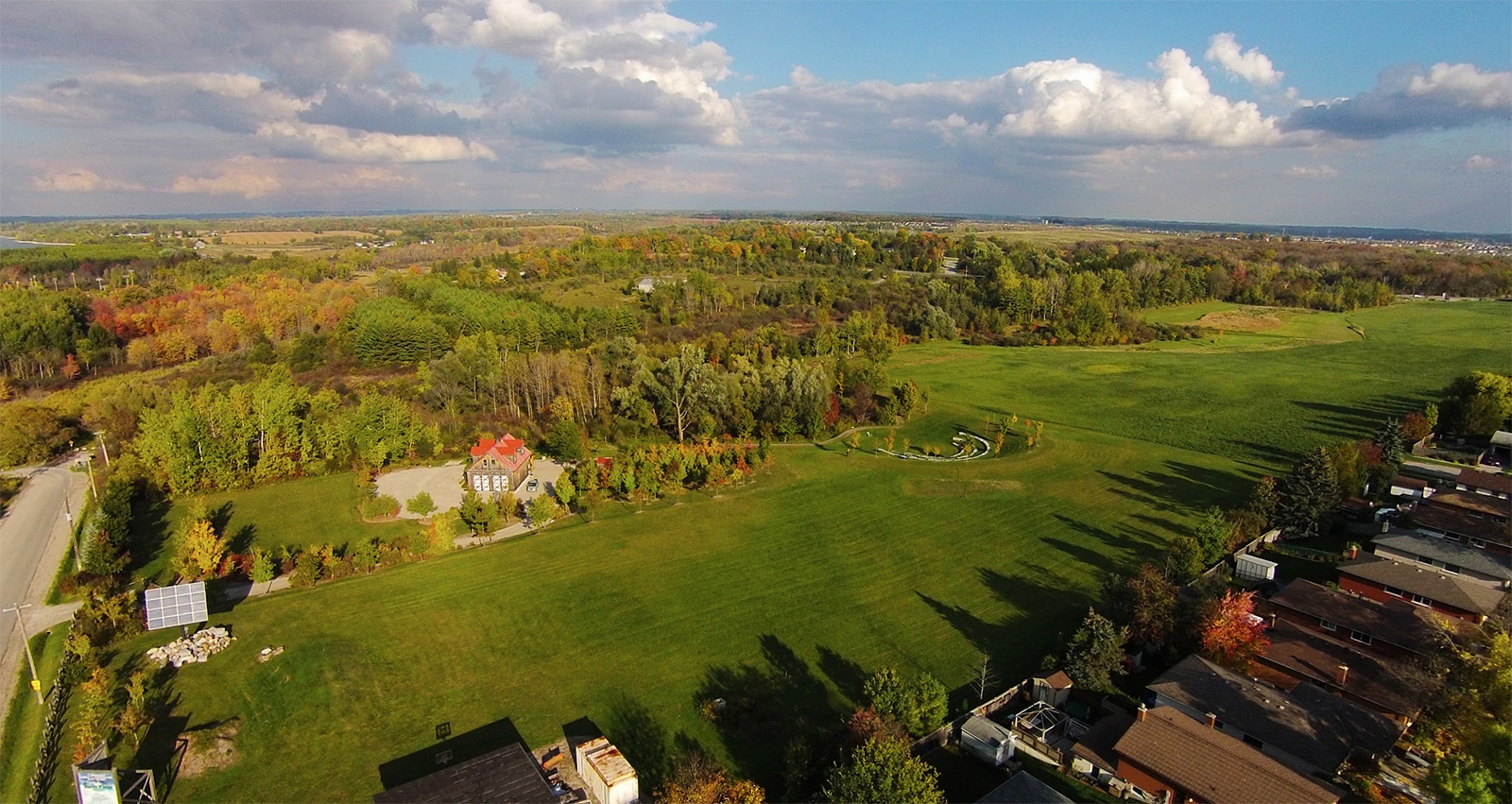 Terra View breaks ground on two major projects still in progress — NiMa Trails, a 14.7 hectare piece of land in Guelph's northeast and Hart Village, a 12.65 hectare property located in the south end of the city. Years into planning, the grading work begins!
2017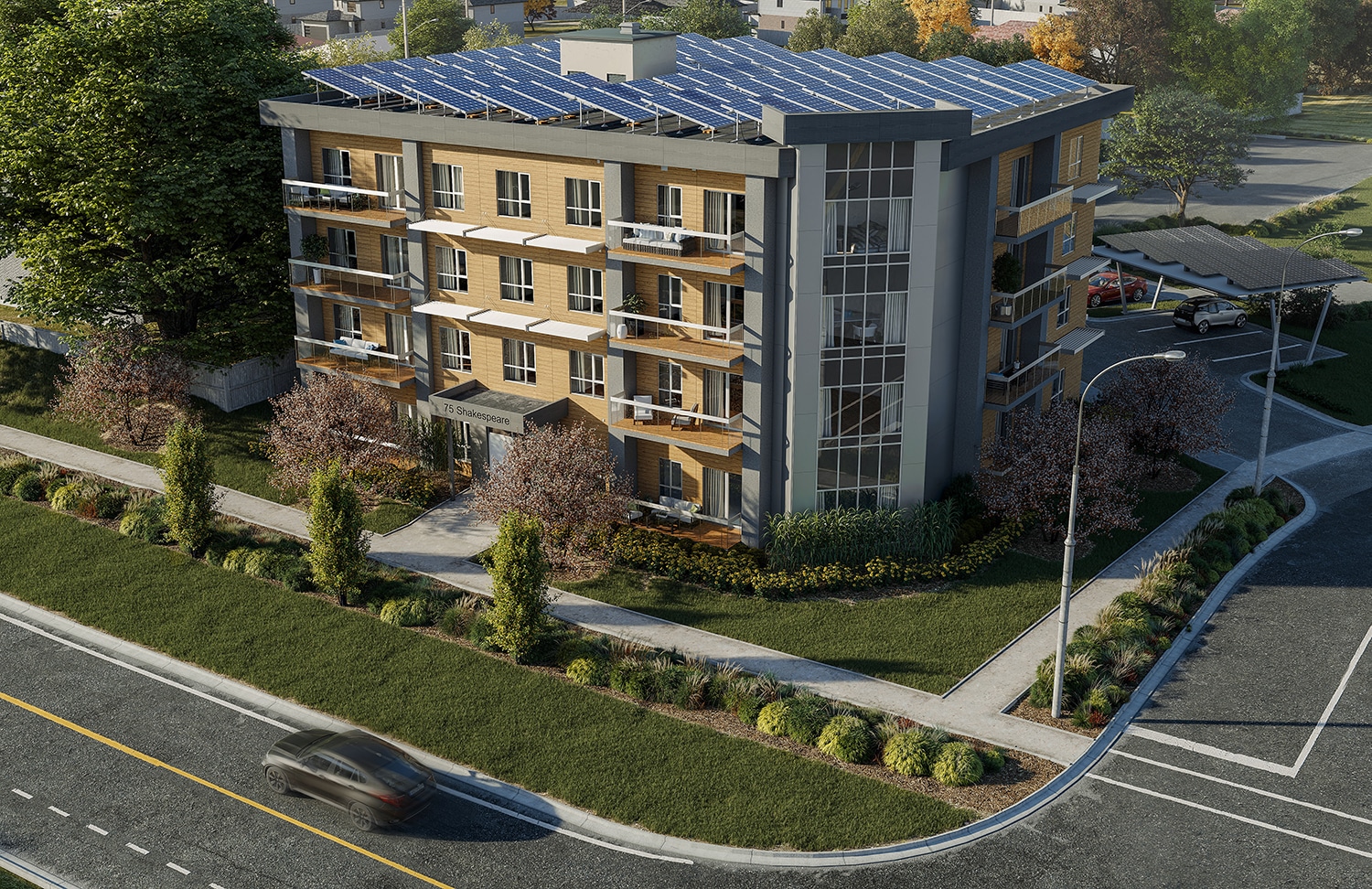 Our Terra Condos project at NiMa Trails was selected as one of 16 projects chosen to be a part of the Canada Green Building Council's Zero Carbon Building Standard pilot program. The 16 chosen projects represent a range of new and existing buildings across Canada helping to inform further development of the Standard over the coming years. Terra Condos is one of the only residential projects chosen to be a part of the program.
2019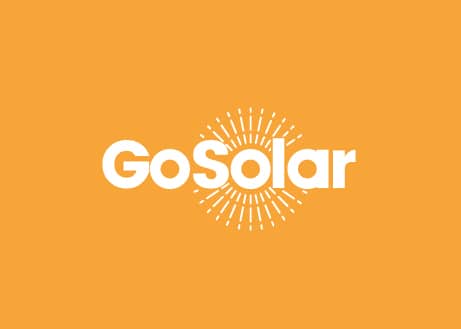 mentally conscious building initiatives, we became the first homebuilder in Canada to offer 4kW solar modules on newly constructed homes in Hart Village. Partnering with Bluewater Energy on the GoSolar Program, we continue to encourage homeowners to take the first step towards complete energy independence. We could think of no better way to celebrate the transformation of our first Net Zero Ready to fully Net Zero home in Hart Village than with a solar topping-off ceremony. The ceremony represented a significant milestone as our city's long awaited, most environmentally responsible neighbourhood was brought to life.
2020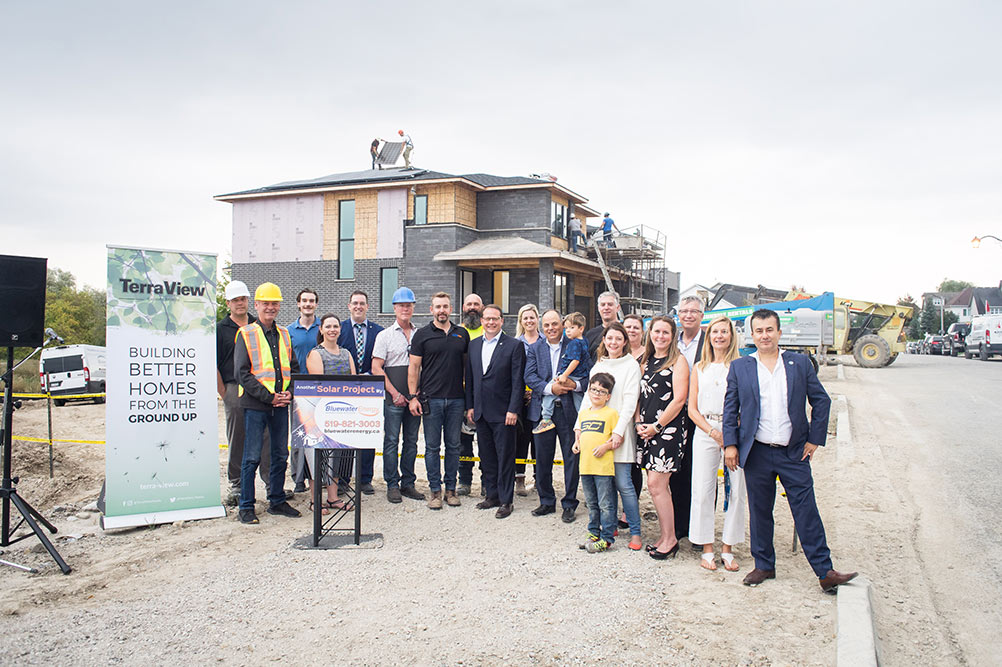 We continued to celebrate our incredible female employees, spotlighting their experiences in the homebuilding industry and their advice for other women considering a career in the industry on International Women's Day. In what was a challenging year for all, Terra View adapted in the face of adversity to keep our customers, stakeholders and staff safe amidst the ongoing COVID-19 pandemic. We adapted and acclimated our building procedures and sales process to meet COVID-19 policies and released resources that allowed prospective homeowners to shop for their new homes from home. We honoured a heroic community member. For Remembrance Day 2020, Terra View gratefully accepted the opportunity to share the story of Guelph local Fred A. Lovett, a 97 year-old veteran from the Second World War. We were so proud to honour Mr. Lovett's legacy by officially dedicating the naming of the street Lovett Lane in our Hart Village community to him and his family. Ryder Avenue in Hart Village is additionally named in memory of Corp. George Ryder of Guelph.
2021
We celebrate our forward thinking leadership, long-tenured employees, dedicated trade partners and loyal homeowners, 30 years and counting. Our current projects include the Hart Village and NiMa Trails communities in Guelph — and we are proud to continue being recognized by industry awards and top-tier media on a regular basis for our leadership towards sustainable initiatives, customer satisfaction and home design.
2051
Looking ahead to another 30 years!