Winter is coming! Before we're hit by the snow, below-freezing temperatures and higher utility bills, make sure to winterize your home. This will save you from damages and extra costs in the dead of winter.
At Terra View, our quality homes are changing the way Canadians experience winter. Our Net Zero Ready homes will be taking energy efficiency (and comfort) to the next level year round. By maximizing the potential of natural elements and minimizing the draw on resources needed for everyday life, winter won't have to be an expensive or stressful time as a homeowner.
Today, we're sharing Terra View's Winter Prep Checklist for Every Home to save you time, energy and money this winter plus show you how winter in your Net Zero Ready Home will look!
Have a Professional Check Your Heating—

As soon as the temperature outside drops, call in a professional to check your heating system and furnace. This will ensure that your furnace won't fail when it's needed most. We advise changing your furnace filter and cleaning your HRV/ERV filters on a regular basis to maintain your furnace's efficiency. To make sure you're kept warm all winter, our Net Zero Ready homes are powered by an ultra efficient heating and cooling system. These homes include both a High Efficiency (MPV) dual fuel furnace and an air-to-air heat pump that pulls heat from cold outdoor air, substantially reducing your carbon footprint as gas is not burned unless outdoor temperatures drop to well below freezing.
Inspect Windows & Doors for Leaks—Be careful, winter heating costs can skyrocket in the winter due to poorly insulated windows or doors! Check the frames around exterior windows and doors and seal any cracks or gaps with acrylic, latex or rubber caulking. You can also add or replace weather stripping in either standard or tape format to prevent any unwanted airflow. With our Net Zero Ready Homes, all doors and windows are triple pane glass as well as being sealed with urethane foam and fully caulked to prevent drafts. Pairing this with our passive house level of airtight envelope sealing and increased levels of insulation means you can sleep soundly knowing old man winter can come knocking but can't make his way in!

Clear Out Gutters—As we head into winter, it is the perfect time to clear out your gutters to remove leaves, sticks, or anything else that can block the drainage of rain and melting snow to cause household leaks. In our Net Zero Ready homes we not only use 5" seamless eavestroughs, but we install three layers of protection to prevent foundation leaks. This system involves a fully tarred foundation wall wrapped in drainage membrane and a continuous layer of spray foam on the inside to reduce the chances of a leak taking place.

Turn Off Faucets Outside—

When water isn't drained, it'll freeze, and your pipes can burst from the added pressure. Make sure to drain, disconnect and store your garden hose inside during the winter to save yourself from expensive and unnecessary water bills or potential floods. Did you know that each Net Zero Ready home is equipped with a 2 exterior hose bib with interior winter shutoffs? This way you'll be able to easily shut off and drain your water to prevent any pipe bursts or headaches.



Install Storm/Double Paned Windows—If you currently live in an older home, you may want to consider adding storm windows or doors to increase the efficiency of your windows and minimize drafts.

 

Our triple pane windows and insulated fibreglass exterior doors take this extra step out of preparing your home for the winter months.
Purchase a programmable thermostat or set your programmable thermostat to save on heating costs—

In an older home with inefficient mechanical systems, it is wise to program your thermostat to cool at night or while you're away

—

thereby reducing your energy demands. In a Net Zero Ready home, state-of-the-art mechanicals are designed to maintain comfort at all hours of the day whereby continuous air flows through completely sealed ducts.



Trim Nearby Trees—

Make sure to trim any trees or bushes close to your roof, driveway or windows. Snow and ice build-up can weigh down the tree branches, causing them to break and damage your property.
We hope these tips help with preparing your home for winter this year and gave you a closer look at our Net Zero Ready homes! Remember, the costs to winterize your home are a small price to pay now to avoid the damages that could come later on.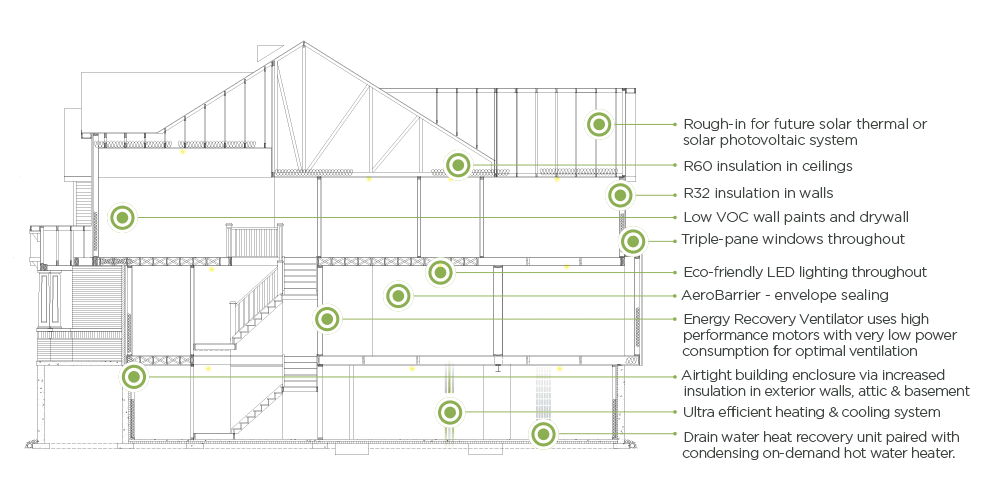 We are excited to be creating the first complete communities of Net-Zero Ready homes in Guelph and are dedicated to building better homes from the ground up. If you're interested in learning more about Terra View Homes, and what makes Net Zero Ready homes a better choice for your new home—especially during the winter months—visit our website. You can also follow us on Facebook, Instagram, Twitter and LinkedIn!

Have a safe and warm winter everyone!